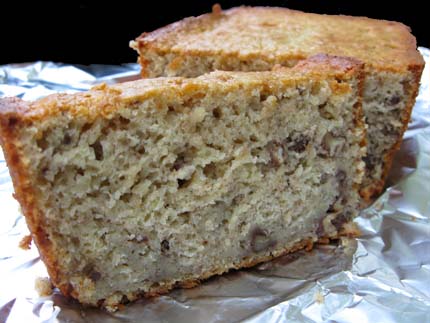 You will need a large mixing bowl and a can of butter flavored spray for this recipe.
Makes two 2 lb loaves of low fat bread.
• 5. to 6 cups flour
• 2 tablespoons honey
• 2 tsp salt
• 2 packages rapid rise yeast
• 2 cups warm water
• . cup non-fat plain yogurt
Mix yeast, water, yogurt, salt, honey and 1 cup flour in a large mixing bowl. Stir
well. Let sit for about 15 minutes; till bubbly. Gradually stir in enough remaining
flour to make soft dough. Knead the dough, on a lightly floured surface, until
smooth and elastic, about 8 to 10 minutes. Let the dough rest on your floured
surface, under the mixing bowl, for at least 10 minutes.
Divide dough in half. Roll each half into about a 12 X 8 inch rectangle. Be sure to
roll out from the center of the dough to remove all the air bubbles. Spray each
rectangle generously with butter flavored spray. Roll up rectangles tightly, starting
with narrow edge. Seal the ends of each loaf by pressing down on each to make a
thin strip. Fold the strips under the loaf and pinch seam. Place each loaf, seam side
down, in a 9 X 5 inch loaf pan sprayed with butter flavored spray. Spray tops of
each loaf and cover loosely. Let rise in warm, draft-free place until double in size,
about 1 hour.
Bake at 375. for 30 to 35 minutes, covering each loaf with foil during the last 15
minutes of baking to prevent over browning. Remove from pans when done and
cool on a wire rack. Spray once more lightly with the butter flavored spray.